People sometimes ask what Urabukkake members get when they sign up for the site. The quick answer is, a lot! As a member you can control how much you get and how you get it. if streaming and downloading is your thing then you want to opt in to the PLUS program. If you are fine with streaming only, then signing up for a basic membership is the way to go. Remember, you can add on to your membership at any time without having to sign up again. You just make your choice and activate it from within the members area.
Urabukkake offers exclusive Hi Definition bukkake videos and photos shot in 1080p. Content is made in Tokyo and features Japan's hottest JAV Idols and teen amateurs. Bukkakeura is pleased to present the best uncensored Japanese bukkake site on the Internets.
Below, is an example of someone who has a Urabukkake Plus membership and has been with the site for more than 90 days. They have access to unlimited downloads and to the old vault where there are many videos going back to the inception of the site. This is also the news center for the site. Catch up on the latest updates, find out what's coming to your bukkake box and get news, info, data about the bukkake scene in Japan.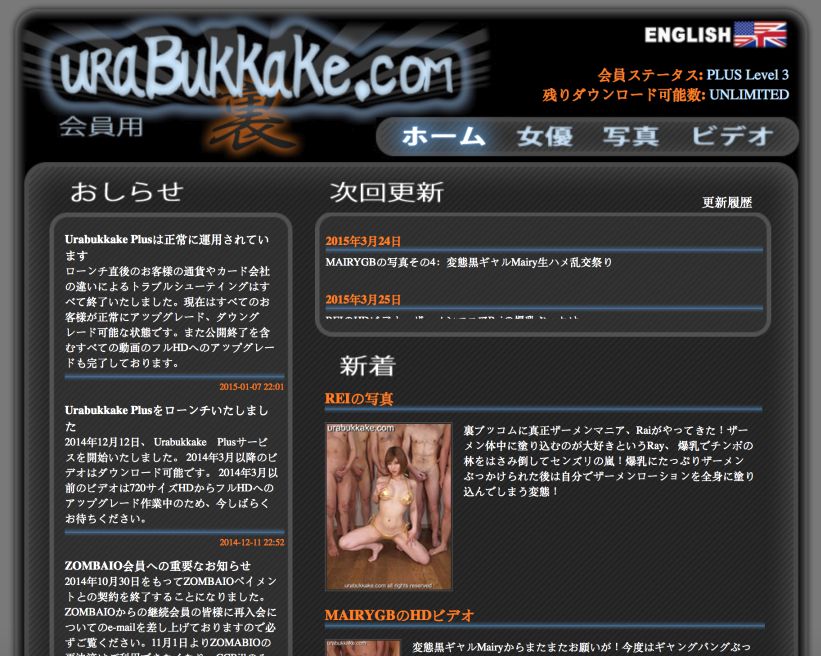 You can navigate around the movie section.
Regular members get streaming videos, whereas Urabukkake Plus members can watch streaming movies and also download movies to keep.