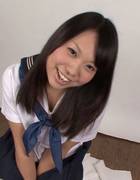 Asami-chan loves to be face fucked..l A lot.  And by a lot we mean 40 guys.  She invited us over and said to bring some friends.  She was really in the mood to play and get herself covered in lots of cum.  She loves the feeling of the hot thick jets of cum as it hits her face, she said. "I feel so sexy and loved by my friends." When I was in high school I used to hang out by the sports field and catch the football (soccer) players as they came in for their showers.  If they had good practice or they won their match I was sure to get lots of cum that day.
Now you can see why, Asami is a perfect Urabukkake girl and perfect for us.  See her movies in Hi-Def and photo sets that will please every inch of your squirting shaft.
Japanese porn amateur Asami in bukkake blowbang
Follow our very own Dirty Asian Girl at twitter.com/goldengeisha
Join our perverts collective at ROBOTChikan – its free and more fun than a room full of humping robots.